¡¡
¡¡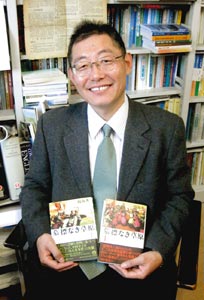 ¡¡
Yang Haiying, 46, Professor of Shizuoka University, graciously accepted the 14th Shiba Ryotaro Award with his book ¡°Genocide on the Mongolian Steppe --- Oral Histories of the Chinese Revolution¡± (published in Japanese by Iwanami Shoten) documenting the tragic history of the persecution of the Mongols of the Inner Mongolia Autonomous Region of China. Professor Yang gave an interview to Chunichi Shimbun on December 9.

¡°Shocked speechless by hearing about the cruelties, I could not hold back my tears during the interviews with the victims,¡± Professor Yang Haiying recalled his fieldwork interviews for his book that describes in meticulous detail the persecution the Mongols suffered during the Cultural Revolution in 1960s.

Born in Ordos, Inner Mongolia Autonomous Region, Yang Haiying came to study in Japan in March, 1989, inspired by Tadao Umesao, founding head of the National Museum of Ethnology (1920-2010). Married to a Japanese woman, he obtained his Japanese citizenship in 2000. Employed by Shizuoka University as a professor at the Faculty of Humanities and Social Science since 2004, his main research has been in Mongolian ethnology.

Vividly describing the ethnic cleansing and the forcible displacement of the Mongolian people based on testimonials and other materials, ¡°Genocide on the Mongolian Steppe --- Oral Histories of the Chinese Revolution¡± is a masterpiece in two volumes that took the author 18 years to research and write. The effort included collecting a large number of official Chinese documents and interviewing more than 100 eyewitnesses and survivors of the period. Because the topic is still considered taboo in China, the author revealed that he ¡°had received pressure and interference from various sources.¡±

Yet, he never considered quitting his field work because of his ¡°commitment to revealing the untold history of ethnic genocide that is a crime against humanity¡±. ¡°My own relatives were also victimized. It was something one can hardly forget,¡± recalling his own experiences at a young age during the Cultural Revolution of the 1960s in Inner Mongolia Autonomous Region.

The selection of the Award winner, sponsored by the Shiba Ryotaro Memorial Foundation, was announced on December 8. The commentator Takashi Tachibana and novelist Teru Miyamoto were also on the list of former Shiba Ryotaro Award recipients.

¡°I didn¡¯t expect this type of theme would be selected for the Award at this particular moment,¡± referring to the Chinese human rights activist Liu Xiaobo¡¯s Nobel Peace Prize award that has provoked China¡¯s extreme consternation.

¡°I feel like destiny is playing a role,¡± commenting on the fact that Shiba Ryotaro was a graduate of the Department of Mongolian Studies at the former Osaka University of Foreign Studies (currently Osaka University School of Foreign Studies).